I have been wanting to join in on Ann Voskamp's 1000 gifts link up for a while, and today… since all I am really doing is watching The Wedding Planner, while my little man naps… I think it's a good time to start.
On Mondays, I honestly never know what to write about anyway because my brain is missing the weekend, my heart is missing my hubby and well, I just don't know how to just jump into work sometimes even though I LOVE what I do. I think this will be a great start to each week, with counting off the gifts all around me.
#1… heart rocks. but even more thankful for my precious friend Deanna for sending me five of these lovelies!!
#2… this little man at the incredibly busy age he is at. he lights up my world. today he wrapped up his cookie monster toy in a blanket and tried putting him to sleep.
#3… colorful buttons.
#4… this hot pink reflection in the sky a few evenings ago. i was driving, but since the road was empty, i put my flashers on, and got a glimpse of it with my phone. #tooincredibletomiss #shepaints
#5… the other day at grandma's house.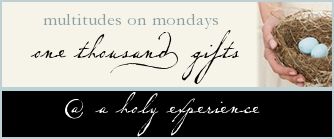 You might also like:
facebook comments: