Grief is the craziest emotion I've ever felt.
It doesn't have one expression or face. I think that's what makes it so hard to recognize. And even more confusing for well-meaning friends and family who think you are over everything on a 'good day'.
It never, ever makes sense.
Sometimes it looks a puddle.
Sometimes it looks like the storm that caused the puddle.
Sometimes a fierce, relentless storm with typhoons and tornadoes.
Sometimes it looks like a volcano waiting to explode, where something as small as a word, song or smell can send you into a balling mess.
Sometimes it looks like a calm ocean.
Sometimes it looks like the butterflies dancing in the grass.
And sometimes like today, it looks like this blank canvas.
I see my daughter's pictures, and I am instantly filled with so much longing.
No tears, but there is sadness.
Not necessarily beaming with a smile, but there is joy.
You'd never know I lost a daughter if you see me in a store. And you'd never know about the ripples she has sent through this world at only 13 days old.
But if you take a glimpse into my heart, my hope is that you might also get a glimpse of me learning the steps to this crazy, almost forbidden dance between grief and joy.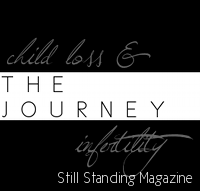 facebook comments: